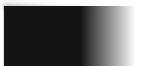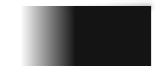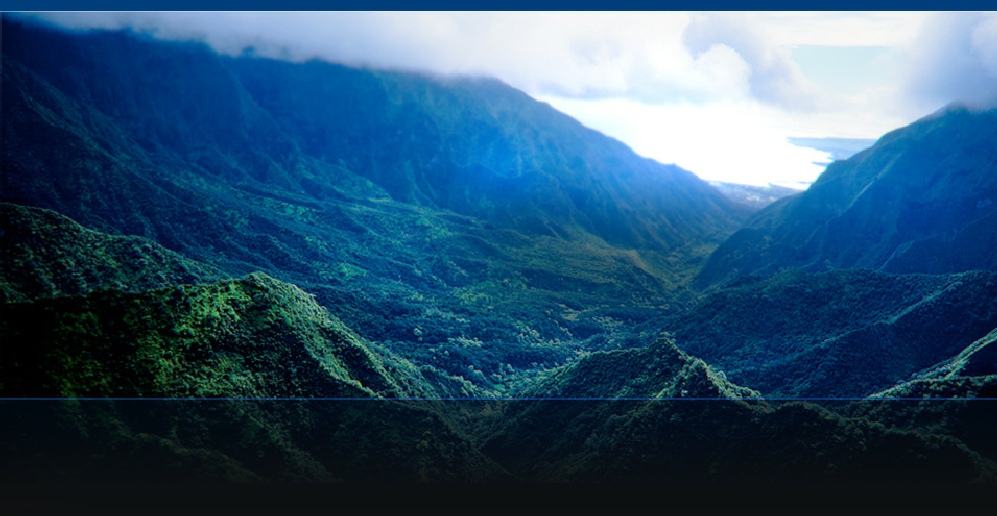 Fresh Aero Aviation - LED Lighting and tools for homebuilt & Sport (LSA) and general aviation aircraft
Fresh Aero Aviation manufactures and markets high quality innovative products for the homebuilt and general aviation community. We also manufacture and market specific products for Van's RV, Sonex and Grumman AA-1 & AA-5 Series aircraft.

Fresh Aero Easy Light for Grumman AA-5 Aircraft
The Fresh Aero Easy Light offers a high brightness panel and cabin lighting solution at a down to earth price. The Easy Light will provide many years of reliable, economical and safe service.
Note: we also include a miniature single LED light assembly with its own on/off switch with every Easy Light order to illuminate your bow compass. This light is similar to our ClipLights but without the clip. The light uses a long lasting replaceable lithium battery like the clip light and will last for years. Simply Velcro this light to your canopy latch cover and you have a dedicated compass light that will light your compass like its never been illuminated before.
And, Easy Lights can be configured for the 24/28 volt requirements of the later model Tigers. Just chose this option when ordering.
Also, we now have the front head dimming feature available for the Easy Light. The control is located directly behind the front gooseneck and provides a smooth linear brightness adjustment of the front LED head - from very dim to full bright. The control is easy to adjust from the front seats and the additional cost is only $18.00.
The optional integrated rear light switches that individually control the two rear lights is only an additional 26 dollars.
Fresh Aero EasyDome Light for Grumman AA-5 Series Aircraft - Blue, Red, Green, White LEDs or any combination - $121.
Fresh Aero "Classic" Easy Light with Rear Light Heads for Grumman AA-5 Series Aircraft - Blue, Red, Green, White LEDs or any combination - $134.
Notice: we are no longer manufacturing the EasyLight Classics and only have two left - both with optional forward dimmers and aft switches. If you're interested in one of these, please let us know.
Dimming Option for Forward LED Head - $22.50
Note: Due to the many configurations, Easy lights are custom built on demand. So we don't stock these Lights. Please keep in mind that there is about a 2-3 week lead time from order to shipment, depending on the volume of orders we receive. if you think you'll want and Easy Light in the near future, why not order now.
Important Notice!
We are not currently manufacturing the Easy Light and will be removing this detail page soon. We have mixed emotions about doing this because the Easy Light was our first product and we've had quite a run. However, the Easy Light is very labor intensive to build and we just don't have the time or resources to continue production and sell them at a decent price. They are essentially hand made here in Tennessee and skilled labor Is in demand and costly. And the market is just too small to design here and manufacture in China. We will continue to provide service for the Easy Lights that are out there, but that said, there are very few that will ever need servicing. We do thank all our Easy Light customers and we enjoyed getting these lights out to you Grumman people over the years, Bob at Fresh Aero
Buy on our Shopping Cart - EasyDome Light for Grumman AA-5 Series
Click here for the 4 LED Replacement Heads in the cart
Or call us and we can take your order. You can also just provide your email address, and we can send you an e-invoice that you can pay with a credit card or a PayPal account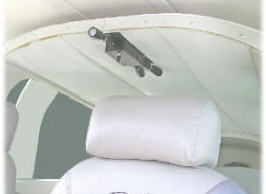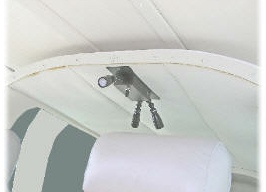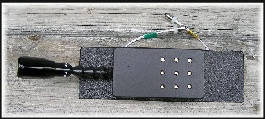 Out 9 LED EasyDome Light - Very Bright!
Very
ABOUT THE GRUMMAN EASY LIGHT
If you fly your Grumman AA5 series aircraft at night, you know that the original overhead cockpit/cabin lighting leaves a lot to be desired.
We have the perfect solution! Just replace the original miniature incandescent light bulbs and outer panel with the Fresh Aero Easy Light Overhead Lighting Unit in about 5 minutes. One customer said it took longer to find his screwdriver then to install the unit. The Easy Light is truly a "plug & play" unit with absolutely no modifications to the airframe or existing wiring.
The "Classic" Easy Light unit consists 3 articulating Goose Lights with 4 high brightness light emitting diodes per head mounted to a flame retardant enclosure and an ABS base panel with the exact dimensions of the original Grumman AA5 series outer panel. The entire unit weighs only 9 ounces.
Our new EasyDome Light uses one forward gooseneck LED head and a 9 LED array embedded into the bottom of the enclosure for downward lighting. This replaces the original rear "dome" light and is over 10 times brighter than the original dome lighting.
Innovative Features Include ---
Our latest Easy Light is redesigned with the goosenecks mounted to the sides of the enclosure. This allows the lights to lay flat against the the canopy headliner when not in use, so they're completely out of the way when entering and existing the aircraft No more bumping into the lights with your head Just pull the lights down when you need them. State of the art LED solid state lighting in red, green, blue or white or a combination of colors
Illuminates entire instrument panel with bright, clean, wide and even light. No halos, gaps or weak spots. Makes reading instruments, maps and other printed material a joy!
Very long life cycle. LEDs, when used correctly, have an approximate life span of 80,000 hours - about 8 years of continuous use
Many times brighter than the original Grumman overhead lighting with significantly less power consumption
One cockpit lighting head and two rear seat heads, each with 4 high brightness LEDs
The new EasyDome Light uses one gooseneck forward LED head and a 9 LED array embedded into the bottom of the enclosure for downward lighting. This LED array is very bright.
Lighting heads are fabricated from aluminum with a black anodized coating.
Segmented necks stay where you position them
Industrial grade internal components and mil spec. wire are oversized for excellent reliability. All electrical connections are soldered and all wire to wire connections are soldered and crimped for reliability and safety.
Lighting fixtures can be positioned to direct light anywhere in the cabin and baggage area
Simple installation. Just remove existing lighting panel (2 screws) & bulbs and replace with the Easy Light unit by plugging adaptors (see adjacent photo) into bulb sockets and securing the unit with the same screws.
New forward head battery back-up option. Battery holder and lithium AA cell is integrated in the Easy Light enclosure. Even if you lose all aircraft electrical power, you'll still have panel and task lighting that will easily outlast your fuel supply.
An optional 2 switch package built into the rear head mount that will turn the rear light heads (on the Classic model) on and off individually. They can easily be reached be anyone in the aircraft.
Front LED head brightness can be adjusted with the integrated dimming option
Vibration proof design. Aircraft vibration will not be a factor.
Available in both 12 and 24 volt versions
We've added several new innovations to our Easy Light
We now have a new dome light Easy Light that we introduced at the AYA Convention in St. Simmons Island this May. This Easy light has a 9 LED array dome light orientated directly down into the cabin -- similar to the original Grumman AA-5 design, but with over 10 times the light output. This dome light is really bright!
We've also added a new forward head battery back-up option. The battery holder and lithium AA cell is integrated in the Easy Light enclosure. Even if you lose all aircraft electrical power, you'll still have panel and task lighting that will outlast your fuel supply. The battery will last up to 10 years and is very easy to replace.
A few words about FAA approval
We consider the Easy Light unit to be a major improvement in Grumman cockpit and cabin lighting. Intrinsic safety and easy installation with no modifications to the airframe or existing wiring make the Easy Light a superior lighting solution for your AA5 series aircraft.
But even minor modifications to certified aircraft may need some type of FAA approval to be legally used in the aircraft. If you install the Easy Light unit in your aircraft, you may need at least a FAA field approval to be completely legal and airworthy.
The FAA people we have talked with consider the installation of this unit a minor "add-on" that would be approved using the field approval process (337 form).
You can download a sample of an FAA approved "337" form for the Easy Light below. Be sure to download both the front and back page.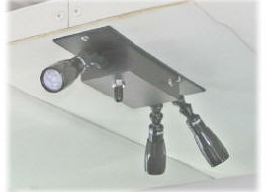 Out Battery Backup Easy Light
Our adaptor plugs that just plug into you existing bayonet sockets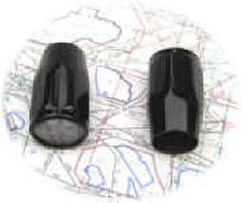 Our replacement LED heads that come in four colors
Important note:
We use PayPal for our payment provider. If you're paying with a credit or debit card and not a PayPal account, just click on the "pay with credit or debit card" at the bottom of the payment page.