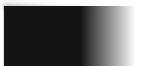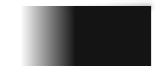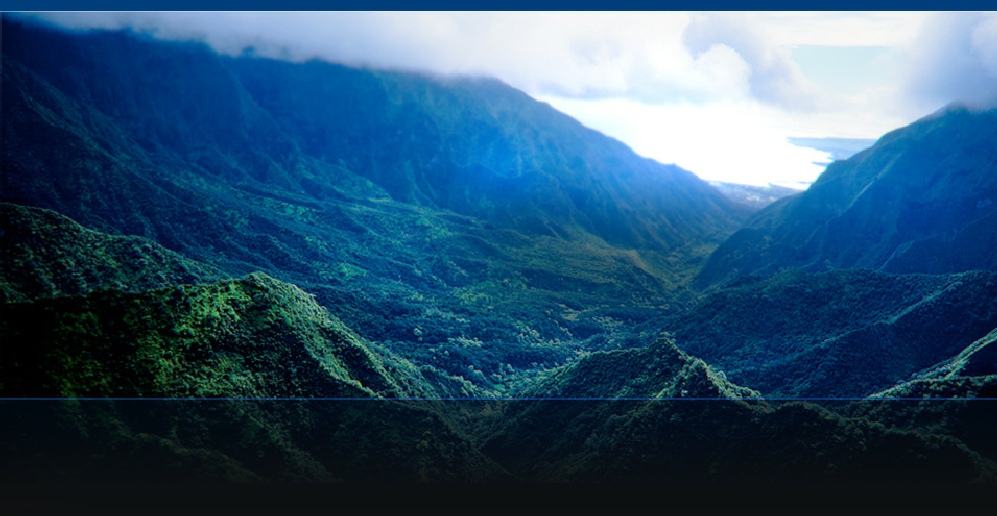 Fresh Aero Aviation - LED Lighting and tools for homebuilt & Sport (LSA) and general aviation aircraft
Fresh Aero Aviation manufactures and markets high quality innovative products for the homebuilt and general aviation community. We also manufacture and market specific products for Van's RV, Sonex and Grumman AA-1 & AA-5 Series aircraft.

Fresh Aero Taxi/Landing/Recognition Light for Homebuilt Aircraft
We're confident you'll be very pleased with the Fresh Aero Taxi, Landing, Recognition Lights.
Please read before ordering the Fresh Aero TLR Light
If you're ordering these lights for RV or other homebuilt aircraft, please specify the rib spacing where you plan to install the lights in the "additional instructions" box on our shopping cart. Were currently fabricating brackets for Sonex aircraft and do plan to stock RV brackets soon. However, we will custom fabricate brackets for your aircraft now, for a 10 dollar additional charge.
Fresh Aero FlightLights LED Taxi, Landing, Recognition Light with Custom Brackets -- $97.
Optional Charcoal Black Textured Finish -- $10.
Lens & Lens Mounting Kit -- $34.
Fresh Aero Wing Wag flasher Module -- $119
Or call us and we can take your order. You can also just provide your email address, and we can send you an e-invoice that you can pay with a credit card or a PayPal account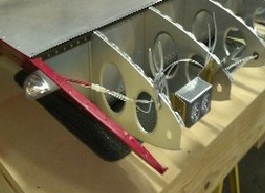 Whether you fly in day severe clear, at night, in low visibility conditions or anything between, you will be seen!
We're proud to offer our LED Taxi, Landing, Recognition Light package for Sonex, RV and other homebuilt aircraft. A combination of innovative features, like easy two axis positioning, high lumen output, low current consumption, high quality and price produce a leading edge LED taxi/landing light system that's tough to beat. We stock the Sonex attach brackets and are fabricating the bracket fixtures for Van's RV aircraft. But custom brackets are available for almost all homebuilts now for just 10 additional dollars. You specify the rib spacing you need, and we'll supply the brackets.
Other Features Include ---
Four high intensity wide angle LEDs and one narrow beam LED head nicely packaged in a 110 mm (4 3/8") long, 56 mm (2 3/8") wide by 54 mm (2 1/8") deep cast aluminum box with custom brackets that fasten between the wing ribs on Sonex, RV and other homebuilt aircraft. The entire assembly weighs only 11 ounces.
Brackets included! Very easy to install. Just rivet or screw the brackets to adjacent wing ribs.
The TLR Light can be installed in both unfinished and completely finished aircraft using the optional "Skinned Wing" Mounting Kit for Finished Aircraft
The bracket/light box attachment can be easily adjusted for rotational and lateral positioning without disturbing the bracket/rib attachment.
These lights can also be mounted inside cowlings using alternate brackets that we'll be offering soon.
The TLR LED lights push out over 1000 lumens of pure white light and consume only 1.4 amps of power at 13.8 VDC. That's only 20 watts per box! And compared to halogen and other lighting, heat is never an issue so you can mount them close to the leading edge lens.
Wide 45 degree beam pattern on one LED head and a 25 degree narrow beam pattern head (See right column for the advantages of this configuration).
Very long life cycle. These LEDs, when used correctly, have an approximate life span of 50,000 hours.
The LEDs units warranted for 3 years. Then the LEDs are replaceable by Fresh Aero. Fresh Aero will replace the each LED cluster for only 20 dollars and this includes shipping back to you. (You'll probably never need to do this)
A strobe and "wing wag" (with two light boxes) option is available too.
These lights are offered in both an unfinished aluminum and an optional charcoal black textured finish.
All components have a UL flame retardant rating of at least HB 94
Vibration proof design. Aircraft vibration will not be a factor.
The lens and lens mounting kits are here!
We now have the pre-formed acrylic lens and lens mounting retainers for the Fresh Aero TLR Light and will be on our shopping cart soon.
These lens mount with just two retainers, top and bottom and mate the wing leading edge profile perfectly. The one piece retainers are precision machined with threaded holes for easy screw mounting.
The detailed step by step manual and templates will guide you easily through the entire leading edge cut-out and lens install process.
The lens kits include everything you'll need to mount the lens - the lens, retainers, screws and foam seal. The manual outlines what you'll need to cut the lens opening.
More advantages of LED Lighting
One of the great advantages of LED lighting is they can be seen from really long distances – much further than other types of lighting. So, not only do these lights provide great ground and runway lighting, they also serve as superb aircraft recognition lights, both for nighttime and day flying.
Also, runway reflectors and reflective material react well to LED lighting and really stand out when taxiing in an aircraft environment.
Heat is not an Issue!
We ran a burn in test of these TLR lights and even after cooking these lights for over 4 hours, the exterior of the box was only 110 degrees Fahrenheit! And that was just the suspended box without the brackets attached. The stand alone cast aluminum housing is an excellent heat sink. Heat is further dissipated when the brackets are mounted between the housing and the ribs.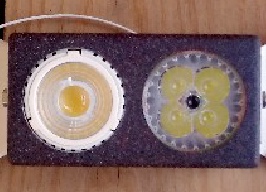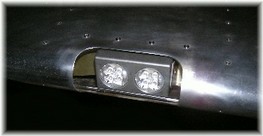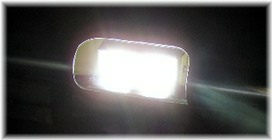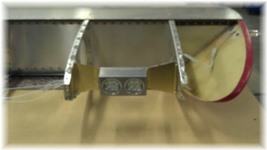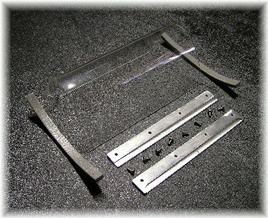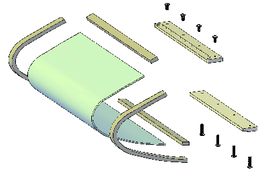 We're Offering The New Hybrid Now!
We've completed tests and are now offering a new hybrid TLR Light that uses one 4 LED wide beam head and one 25 degree narrow beam head in the same box.
We believe this will offer the "best of both worlds" in a leading edge light. The 45 degree LEDs can't be beat for "recognition at a distance" because they have inherent wide angle properties that allow the observer's eye to detect this light at really great distances. The narrow beam LED light head will light asphalt further down the taxiway or runway from the pilots perspective. This is a great combination!
Install in Unfinished and Finished Aircraft
The Fresh Aero TLR Lights can be installed during the build process or in completely finished aircraft. The optional "skinned wing" kit facilitates the mounting process with special hardware that greatly simplifies TLR Light installation. The kit includes 4 "EasyNuts" that that just adhere to the ribs and hold the nuts in place while the screws are turned in and tightened. Screws and a long reach hex wrench is included too.
The bracket photo on the left shows the 3 hole pattern used to adjust the TLR Light box in both the rotational and lateral planes. This feature provides precise alignment vertically and horizontally. You control the "aim" point!
Check out our new wing wag Flasher Module - The Fresh Aero Flasher!
We've prototyped, tested and are now building our new wing wag flashing module - The Fresh Aero Flasher! Please refer the photos in the center column below.
This is no ordinary wing wag flasher. The cast aluminum box is 110 mm wide, 59 mm, high, 35 mm deep and weighs only 9 ounces.
There are mounting flanges on both ends for mounting in any convenient location, including the bottom of your instrument panel.
Easy four wire hook-up - fused positive, negative ground and one positive lead to each wing light.
This flasher was designed for our TLR Lights but will work well with virtually any 12 volt LED recognition system.
Our standard flasher has 7 separate flash patterns: single, double, quad, alternating, quad alternating, alternating variable speed, simultaneous variable speed and random.
We also have a 27 pattern option with every pattern sequence could ever want.
A double throw, center off toggle switch lets you choose between "steady on" and the flashing patterns. The center push button switch sequences the different flashing patterns.
Integrated LEDs at each side of the box flash with the same pattern as the the wing lights so you'll know what you're lights are doing when you choose a flashing pattern. A push button switch on the box turns the indicating LEDs on and off, so they won't be distracting in flight.
What's really great about this flasher module is all the controls are integrated within the box. That eliminates the need to purchase, mount and wire additional switches to control your wing lights.
Available with a natural aluminum finish or it can be purchased with an optional tough textured charcoal finish.
We believe you'll be very pleased with the Fresh Aero flasher.
The TLR Lights are available with a natural aluminum finish or can be purchased with an optional tough textured charcoal finish as shown in the first two photos.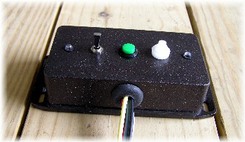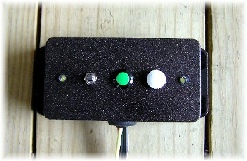 Our new Fresh Aero Flasher!
See the text on the right.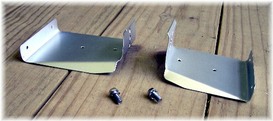 Important note:
We use PayPal for our payment provider. If you're paying with a credit or debit card and not a PayPal account, just click on the "pay with credit or debit card" at the bottom of the payment page.